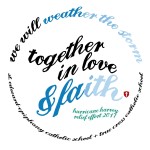 THANK YOU for our families' amazing response to the SEES fundraising efforts for True Cross Catholic School in Dickinson, Texas. Through our Tag Day and T-shirt sales, SEES has raised more than $5K . . . WOW!
Yolanda Agrella, principal at True Cross, is beyond grateful for all that our community has accomplished. We have been in constant communication, and wanted to share with you some of the updates that she has given over the past two weeks:
Unfortunately, the school was a total loss, so they are working on a gut/rebuild of the school building.
The students have been temporarily taken in by another school in a neighboring town. They resumed classes last week.
They hope to have at least the classrooms reconstructed in the next two to four months, which would allow their students to get back in to their own space.
They are slowly discovering what they need to bridge the gaps. Mrs. Agrella shared that the funds we have raised will go to help primarily with in-school supplies and helping families who have lost their homes cover school-related expenses (supplies, lunches, uniforms, etc.).
We will continue efforts to help support this wonderful school. We ask that our SEES families keep the True Cross families in our hearts and prayers during their long road to recovery.
T-shirts are still available for order with all proceeds going to True Cross. Orders can be made online HERE.
SEES student hurricane relief efforts featured on Channel 12 news