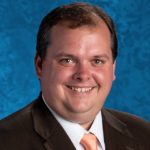 The St. Edward-Epiphany Catholic School community welcomed Mr. Tracy Hamner as the new principal on July 1, 2019.
Mr. Hamner accepted the offer to return to SEES to serve as our 11th principal this year. Mr. Hamner and his family are excited to return to Richmond and to SEES, where he served as the assistant principal from 2013 to 2015.
Since 2015, Mr. Hamner has served as the principal of St. Anthony Catholic School in Florence, South Carolina (Diocese of Charleston, South Carolina).
Mr. Hamner is a product of Catholic education in the Diocese of Richmond. He attended St. Bridget Catholic School from Kindergarten through 8th grade. He attended Benedictine College Preparatory for high school, graduating as Valedictorian of his class.
Mr. Hamner graduated from the University of Richmond with a Bachelor of Arts in English and a Minor in Secondary Education. After graduation, he taught English and coached basketball and baseball at James River High School in Midlothian, VA.
In 2005, Mr. Hamner was hired by former SEES parent and Cleveland Cavaliers Coach John Bellein as the Graduate Assistant at West Virginia University. While coaching basketball at WVU, he earned his Master of Science degree and was named the Most Outstanding Graduate. In 2007, he moved to Ann Arbor, Michigan and was named the Administrative Specialist  Men's Basketball Coach at the University of Michigan.
Mr Hamner returned to Richmond in 2008 and became the Head Basketball Coach at James River High School. For five years, he taught English and coached basketball, football. baseball and softball.
In 2013, Mr. Hamner decided to return to his roots in Catholic education, which led him to his role as Assistant Principal at St. Edward-Epiphany School.
Mr. Hamner is married to A'Leigh Spensieri Hamner, a St. Benedict Catholic School graduate and St. Gertrude High School graduate. They have three children, Taylor (9), Molly (3,) and Sean (4) who we will also welcome back to our school community as students in the 2019-2020 school year.
We are excited to welcome Mr. Hamner and his wonderful family back to Richmond and the SEES community.