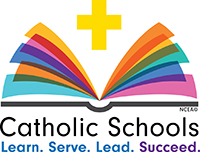 Sunday, January 28, 2018 marks the beginning of National Catholic Schools Week. National Catholic Schools Week is the annual celebration of Catholic education in the United States. This year it begins January 28 and runs through February 3. The theme for National Catholic Schools Week 2018 is "Catholic Schools: Learn. Serve. Lead. Succeed." SEES will observe the annual celebration week with Masses, an Open House, and other activities for students, families, parishioners and community members. Through these events, we will focus on the value Catholic education provides to young people and its contributions to our church, our communities and our nation. Below is a list of events for each day.
Sunday, January 28 — CELEBRATING OUR PARISH
Wear your uniform to Mass and earn a Tag Day Pass!
Campus Open House 12pm-2pm. Parishioners, current families, and prospective families are welcome! Current students earn a 2nd Tag Day Pass for attending the Open House.
Monday, January 29 — CELEBRATING OUR COMMUNITY
Rainbows for Haiti $1.00 Tag Day. Dress in the color assigned to your grade level! Proceeds will help build a school cafeteria in Holy Family Catholic School in Haiti.


| | | | |
| --- | --- | --- | --- |
| | x | | |
| | Grade | | Color |
| | Pre-K | | Pink |
| | Kindergarten | | Red |
| | First | | Orange |
| | Second | | Yellow |
| | Third | | Teal |
| | Fourth | | Green |
| | Fifth | | Blue |
| | Sixth | | Purple |
| | Seventh | | White |
| | Eighth | | Navy |
Tuesday, January 30 — CELEBRATING OUR VOCATIONS
Wacky Sock Day (with uniform)
Letters and Care Packages to Our Seminarians. Please bring a bag of candy or other snack item to send with cards in care packages to Seminarians.
Community Mass at 9am. We will celebrate the retirement of SEES bus driver Helen Matthews and her 47 years of service to our school. Students asked to bring a jar of peanut butter to Mass to benefit FeedMore.
Wednesday, January 31 — CELEBRATING OUR NATION
Red, White & Blue $1.oo Tag Day to benefit Operation Healing Forces
Student Letters to "A Million Thanks" Campaign
Thursday, February 1 — CELEBRATING FACULTY & STAFF
Pajama Tag Day (no slippers please)
"Thank You Thursday" for Our Faculty and Staff
Family Dinner Night. Please join us at Blaze Pizza from 5pm to 8pm for a fun community event! Be sure to bring your flyer with you!
Friday, February 2 — CELEBRATING OUR STUDENTS
Spirit Wear Tag Day. Please bring in a new school supply of your choosing to benefit Church Hill Activities & Tutoring (CHAT)
Donuts with Epiphany
SEES Talent Show 1-2:30pm
Saturday, February 3 — CELEBRATING FAMILIES
Sweet Frog Fundraiser. Stop by Sweet Frog at 11415 Midlothian Tpk. #8, Richmond VA between 12pm and 4pm and earn a TAG DAY PASS! A portion of the proceeds from sales is donated to SEES.
Visit the SCHOLASTIC BOOK FAIR in the SEES Media Center January 28-February 2