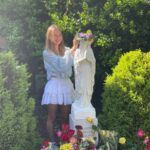 The annual May Crowning is scheduled for Wednesday, May 18.
All students will gather on the blacktop at 9:15 for a short prayer, followed by a procession ending at the statue of Mary near the parish office. Parents may attend. Students must be dressed in school uniform, with the exception of 8th graders who may wear Spring church clothes.
We ask that each student bring a flower to lay at the foot of the statue.
---